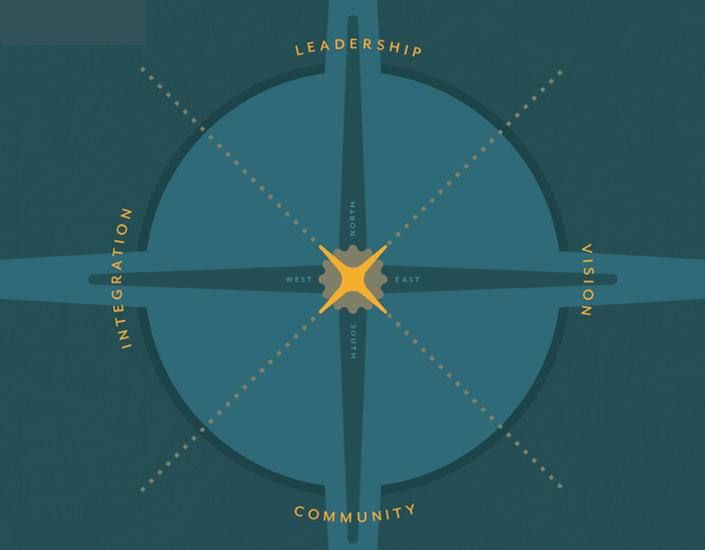 Leadership and Career Essentials - With Coaching
Be the leader of your life and work. Create the world YOU want to see in business with this coaching program.
Enroll in Course
For high achieving and forward thinking leaders...
who want to make sure you are BOTH:
having a huge impact as leaders and contributors
enjoying your work to the greatest extent possible
It was specifically designed for...

people feeling pressure from the incessant and insatiable demands of work, who know you can't fulfill ALL of what's being demanded.
Who may have experienced a crisis of confidence as a result, because you thought you were doing so well.
You want to get well ahead of any crisis.
Who are reaching the limits of what you can do. Time management, project management, and leadership development have gotten you as far as you can go.
You're ready to bust through limits.

Who care about the right work getting done for the business AND ensuring that ANY challenge you face will grow you into the next best version of yourself.
Your next career move is on the horizon.


Who ultimately want to make your work both
meaningful and profitable at the same time.
So that you can...

Stay centered during conflict or challenges.
Stop and objectively look at the way things are being done.
Cultivate the culture of your existing business. OR launch a new business.

Balance being strategically proactive with tactics.

Ensure hiring and performance is culturally aligned.
Prevent problems. Trouble shoot as needed.
Revamp operational protocols and schedules. Make sure you're doing the right work.
Keep yourself and employees organized, engaged, and feeling good.
KNOW that working ON the business is as important as working IN the business.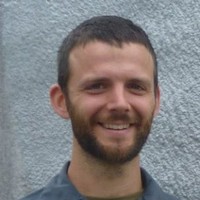 "I use IAMX along with Karen's support to instill life values and meaning into my professional work. Using the IAMX Compass to inform organizational strategy and execute company tactics toward clearly articulated goals moves us in the direction of greater meaning and profit. The IAMX compass is a tool that helps navigate the uncertainty of markets while maintaining a deep sense of who we are and how we want to show up in the world. I recommend IAMX for people who want their True Work in the World and their career to align. I also hope to establish business to business relationships with other companies skilled in navigating the IAMX Compass. It's a game changer."

~ Link Shumaker, CEO, Biosystems Engineering


"Using IAMX to create our Genius Culture is all about us having those conversations that afford somebody who could be the victim of change the opportunity to instead be the architect of that change. So if I have an idea and I'm about to thrust a change on somebody, the onus is on ME to work with people I'm thrusting this change upon to work WITH them on creating the change. Why I'm making the change has to be clear, and WHAT the change looks like also becomes clear – with people's involvement. That's the essence of Genius Culture."
~Peter Frost, Chairman and CEO, ATW Companies

In this program you will learn how to:
Focus your attention on bringing your authentic best to work and life.
Harness the energy of your True Self and be the leader of your career.
Gain understanding about those things that are most important.
Understand your unique strengths.
Courageously identify appropriate opportunities to fuel your goals.
Know the creative energy that is yours to claim.
Discover your authentic path.
Identify ways to be focused every day.
Receive GPS guidance from your emotions.
Use your career plan to strategically and tactically be the leader of your career.
Know ways to create sustainable, meaningful and profitable work.
Via the course curriculum and courses described below:
Course Curriculum
START HERE!
Available in days
days after you enroll
How to Navigate Courses Included with Leadership and Career Essentials
Available in days
days after you enroll
Courses Included with Purchase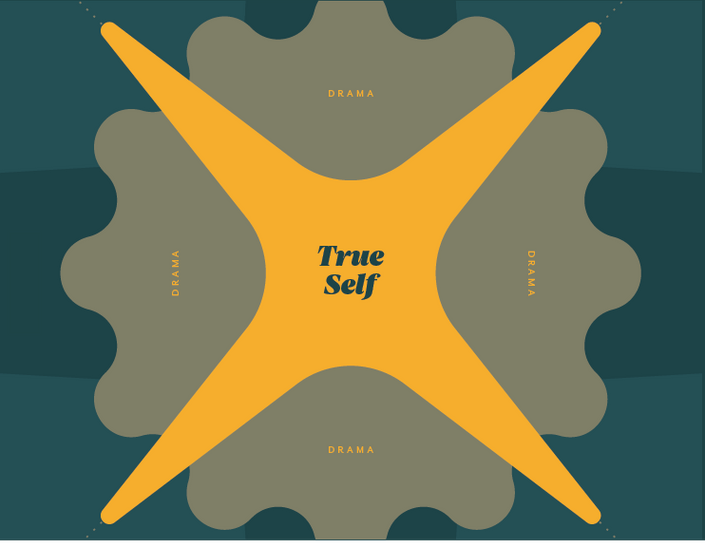 Define Your True Self - with Mindfulness and Coaching
Get control of your current stressful situation, get centered, and prepared to be the real you who can influence the culture and systems around you.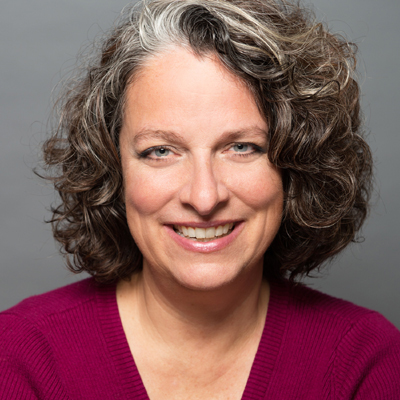 $800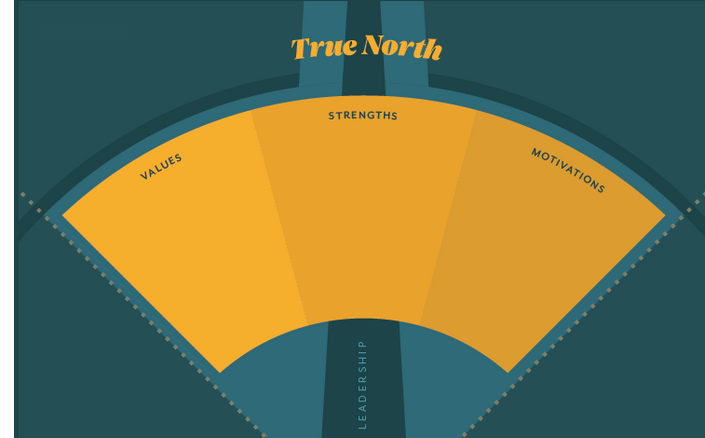 Orient From True North and Take Flight
Use deep knowing of your true self to clarify where you're headed in work and life, and take flight to get there.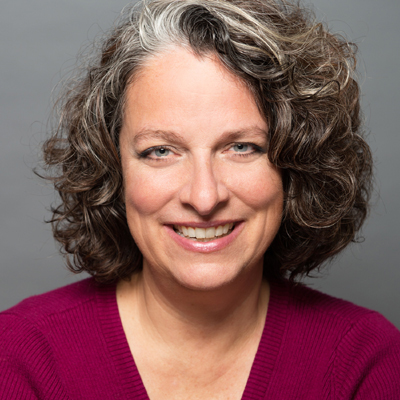 $600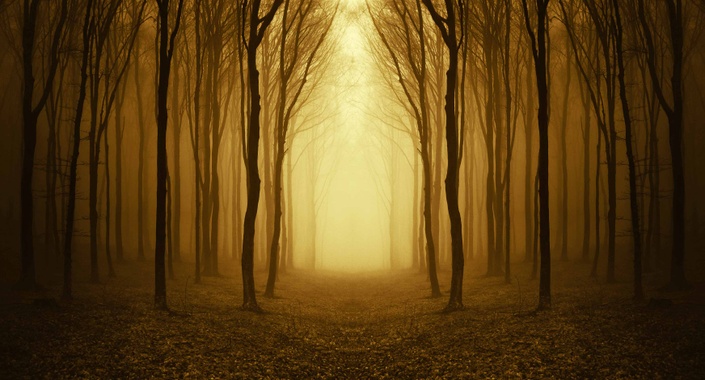 Executive Coaching - Don't Walk Alone
Get individualized support as you walk through IAM's online learning programs.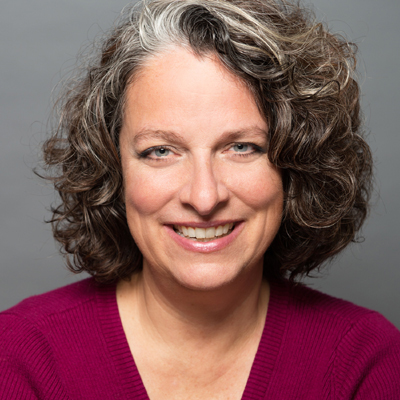 $6,600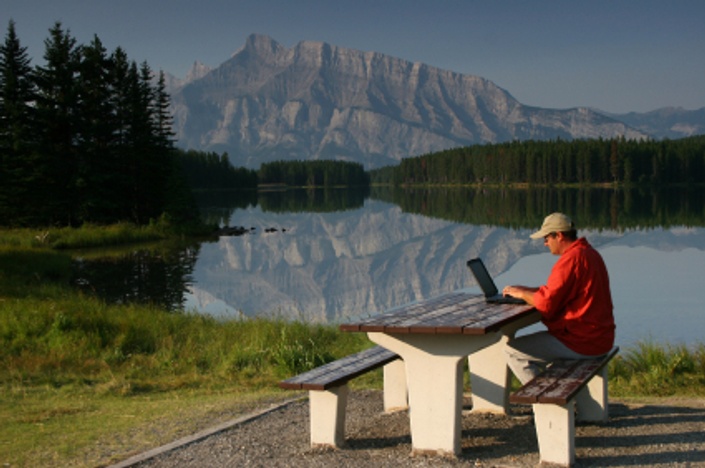 Happy @ Work ~ Affirmation Meditations
Get meditation support being the leader of your work and life.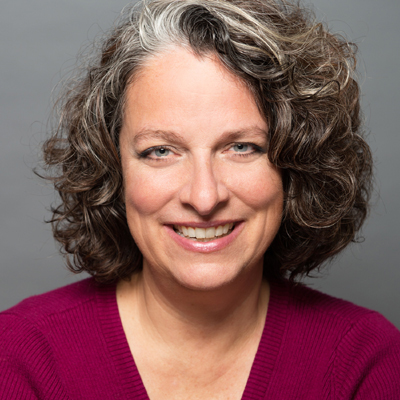 $30
Original Price: $8,030
Book Included With Purchase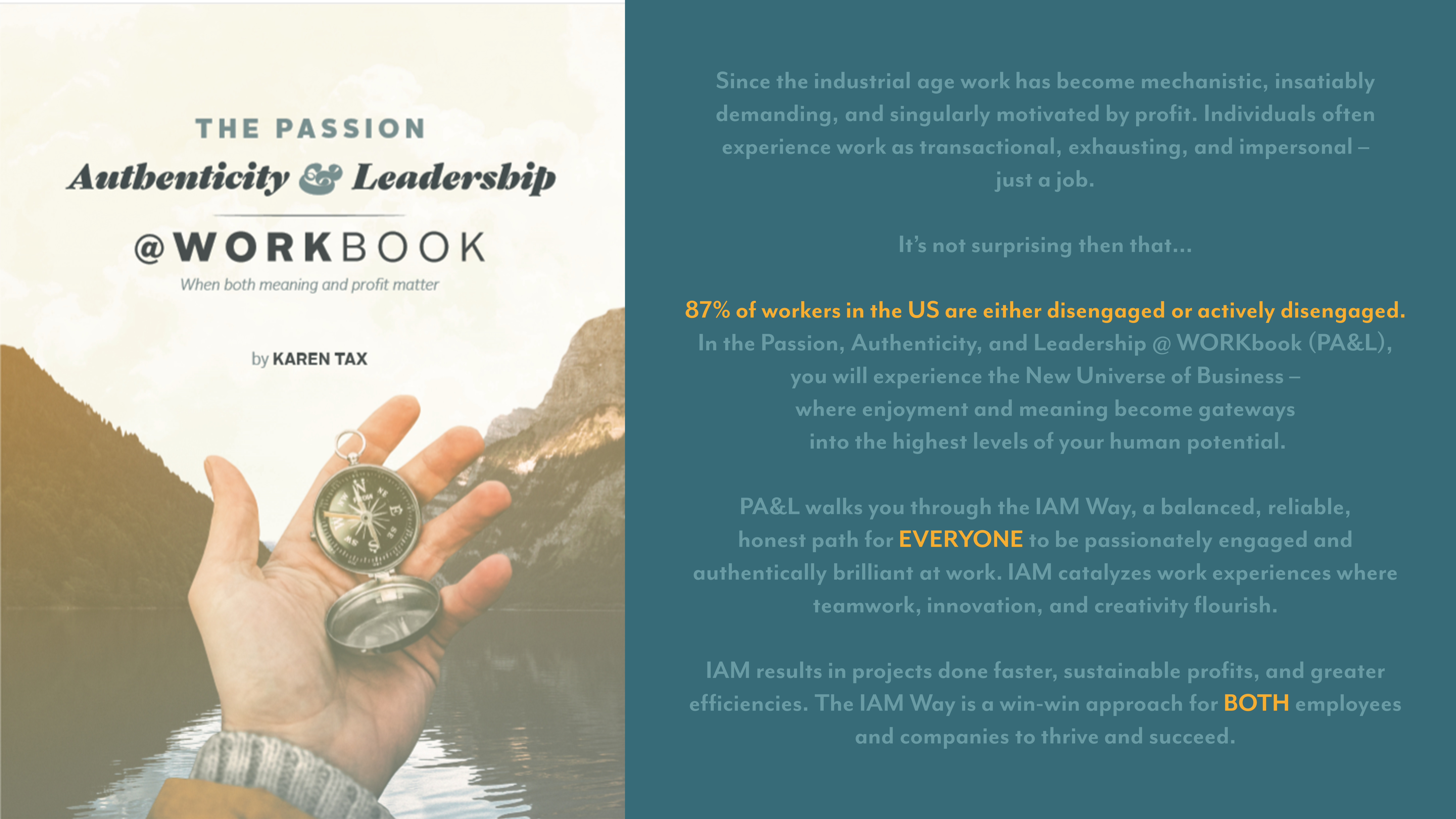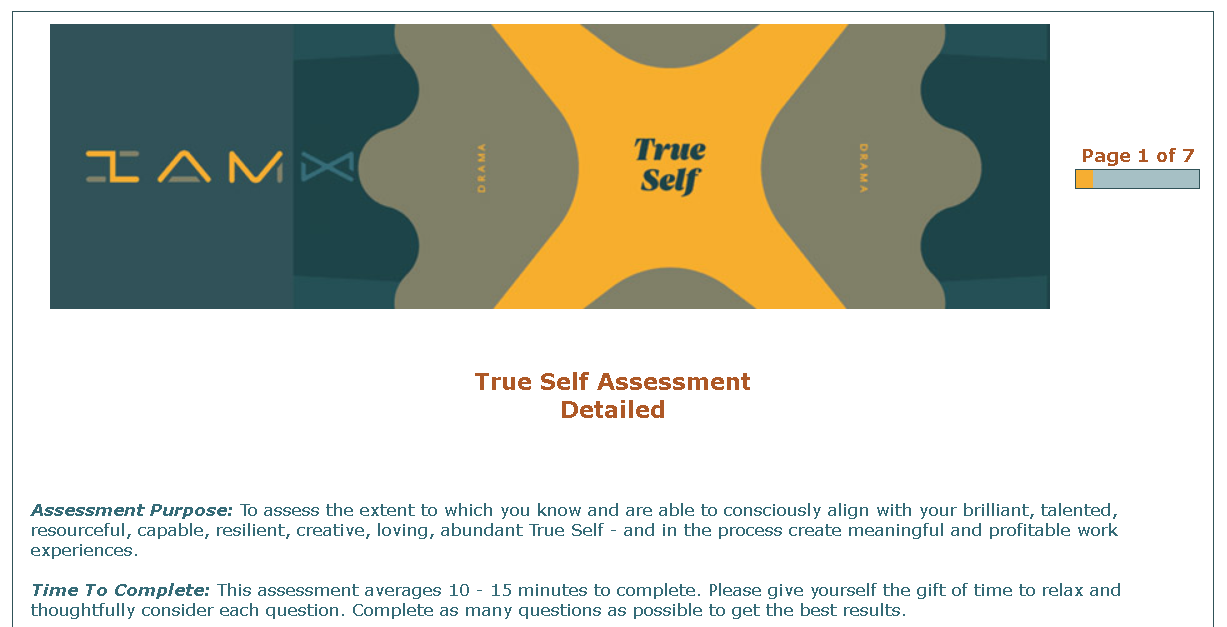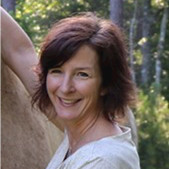 "Karen is a dynamic, smart and dedicated leadership and career coach who has an amazing talent for getting clients connected to their own potential and power. Using the IAMX approach, she helps me see areas where I am blocking things from coming into my life, and empowers me to know my value, claim my best life and get what I want – increasing my pay in the process."

~Jill Taylor, Senior Sales Director, Alaffia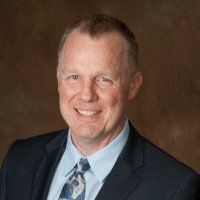 "The True Self Assessment easily showed me how I had the controllable stuff with my work under control. The assessment did show me the opportunity I have which is looking more closely at the relationships around me and the stakeholders in the rest of my world where I can have more influence. I see the gap, and I'm going to deal with it!"

~ Martin Evans, Co-Founder and Managing Partner, Renaissance Energy Partners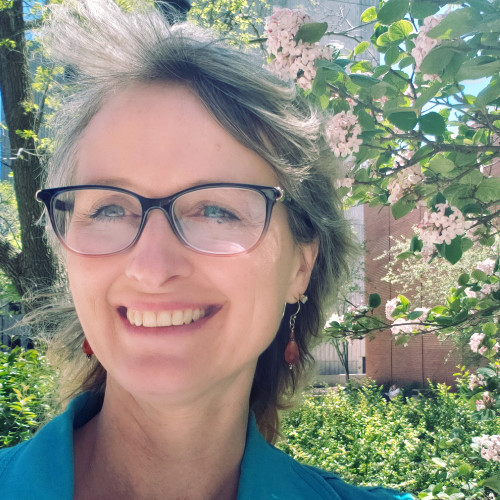 "When I first started with IAMX coaching, I was angry about my work situation. Then I stopped struggling over it and thought 'maybe this is a gift'. Because of IAMX coaching I have manifested the career change that I needed to. I have accepted a new position with the Center for International Education on the campus where I currently work. I have negotiated a raise, the possibility of a more flexible schedule, the opportunity to be mentored by strong, respected women in that department (no more dinosaurs) and a probationary track leading to tenured status. Thank you for your support, stories of hope and perseverance, and for the courage to be me!"

~ Christine Wolf, Assistant Director of Global and International Studies, UW-Milwaukee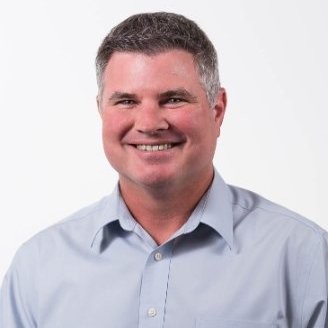 "IAMX allowed us to clarify everyone's wants and act on them, instead of trying to force people to do things or getting caught up in either/or thinking. We use the IAMX Compass in almost every meeting to help us clarify WHY we're doing something and create buy-in with less push back. IAM has helped us to let go of or ignore small speed bumps and not see them as walls.
~ Rob Hall, President, Paramatech Corporation

Frequently Asked Questions
When does the course start and finish?
The course starts now and never ends! Learning modules are delivered weekly and discussed during your coaching conversations. Talk with your coach if you'd like access to the learning all at once - where you can choose your own pace.
How long do I have access to the course?
How does lifetime access sound? After enrolling, you have unlimited access to this course for as long as you like - across any and all devices you own.
Does this course include coaching?
Yes! This version of the Leadership and Career Essentials program includes Executive Coaching - Don't Walk Alone which is detailed in the "Courses Included with Purchase" section of this page.
What if I am unhappy with the course?
We would never want you to be unhappy! If you are unsatisfied with your purchase, contact us in the first 30 days and we will give you a full refund.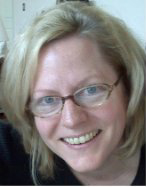 "Through continued use of the IAMX tools, I gained clarity that helps me carefully choose my clients and projects to make sure they nourish my soul and are in alignment with my priorities and purpose, which ultimately serves my clients very well. I absolutely love the freedom and flexibility that comes from working on my own. It's now seven years down the road and I have created an amazing lifestyle, with a clear path to financial independence that is full of joy and honors who I am and my natural flow of energy."

~ Karen Eldridge, Owner, Karen Eldridge & Associates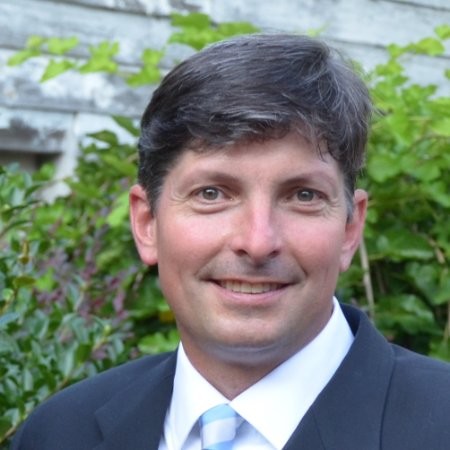 "The methods and knowledge IAMX made me realize I made a great value decision for my career and leadership development. My coach cared about the person first, then worked to challenge and push me to reach potential. The Program instilled confidence and determination in me by creating an environment that is comfortable to address difficult, important challenges. I am a better person, employee and leader in my company as a result."

~ York Davis, IT Global Delivery Director, Indivior

Your Coach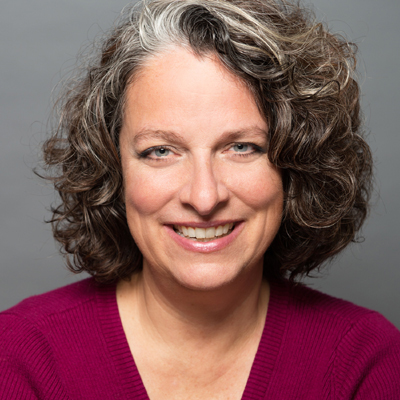 Karen Tax is a consultant and author who coaches people to discover their brilliance so they can be happy, influential, AND their authentic best at work. She specializes in creating results without sacrifice or compromise, where everyone wins, and workplaces where both meaning and profit matter.
Karen has a B.S. in Computer Science and a M.S. in Organization Development. She is the author of the Passion, Authenticity & Leadership @ Workbook and creator of the Define Your True Self and Leadership and Career Essentials online learning programs.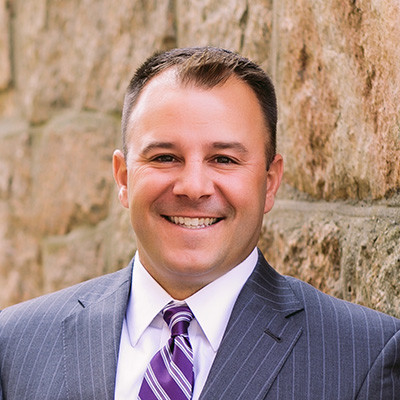 "Karen Tax provides excellent coaching support that helps remind people to be genuine while offering feedback to those they are working with. This approach helps engage people in productive discussion that leads to mutual benefit and accountability in the relationship."
~Kevin Wilder, Regional Vice President, Workforce Recruitment at Eastridge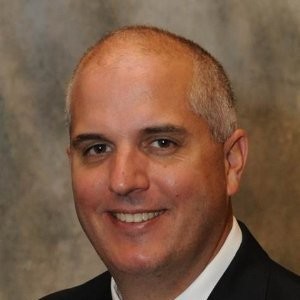 "IAMX has given us a common language to name where we're spending our energy and assess whether this is a wise investment, without making people bad or wrong in the process. Before IAMX it was confusing because some people thrive on drama, they create it or are passive. Now we deal with it in a constructive way."
~ Mike Howard, President, Judson A. Smith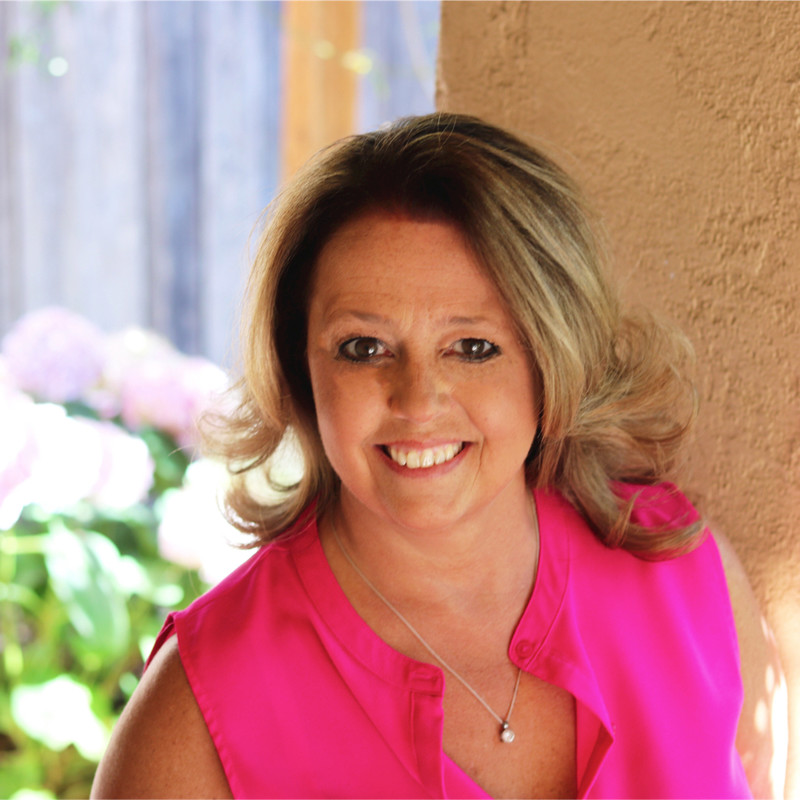 "I've been successful creating Genius Culture by using the IAMX tools in a unique and flexible way. Each group of people is as unique as each individual in the group – some need more structured and formal training, others need informal experiential learning. I've been able to use the tools in appropriate ways in a just-in-time fashion – to create culture change that sticks."
~Toni Tamagno, Director of Human Resources, ATW Companies

"It takes time to understand why a project is important and plan what we are trying to accomplish. But when we slow down to do this work, to know what's in scope and out of scope with a project, we have greater success. IAMX guided us in how to be more successful with our projects."
~ Anthony Girard, Value Stream Leader, GE Healthcare